Five Rules for Buying Furniture Online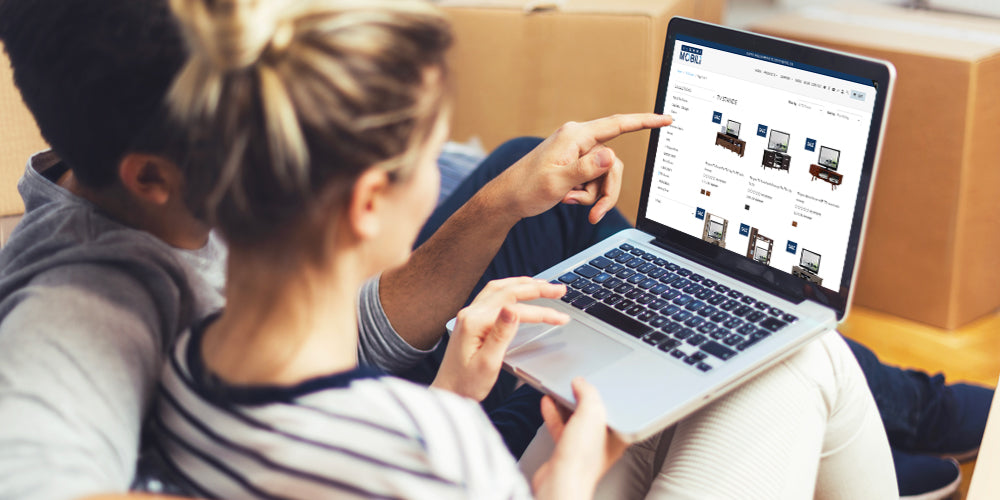 As a furniture retailer, we understand how easy and practical it is for you to buy your pieces online. Trust us, that's why we make it so easy to buy online because we KNOW that it's easier and more convenient for you. Of course, it doesn't come with its share of research, when getting ready to make your new purchase. Here are 5 things you need to remember as you plan to buy online furniture.
Measure … Measure … Measure!
We're serious, measure your space at least three times, and check it twice. There's nothing more frustrating than getting your new piece of furniture in the mail, assembling it, and then realizing that it is way too big or even too small for your space. You can avoid this by measuring your space several times, and even taking some string and mark out the dimensions of the piece of furniture that you're looking at.
Look At The Warranty Policy
Sure, legal stuff can be kind of dry reading, but no matter what company you buy from, it's important to know what is covered under the warranty before you buy. At RTA Products, we have our warranty information directly on our website. It's easy to find, simple to understand, and quick to read. You'll know exactly what is covered when you buy your modern office furniture from us.
Research Their Customer Service
It may seem like you're going into a lot of detail before buying furniture, but this is a big investment, and you need to make sure that when it arrives, it's exactly what you were wanting. Not only that but if something happens, you'll want to make sure that you are working with a company that will answer your calls and emails. Our customer service department is exceptional. They are quick to respond and easy to work with. Not only that, but they are helpful. From assisting you with replacement parts to directing you to assembly information about your product and more – they are ready to assist.
Look for Reviews
You don't just want reviews from the particular piece of furniture, but reviews from the company themselves. In an age where buying things from out of the country is cheap and easy, many individuals are purchasing expensive items, only to have them not arrive, or not be anything that they expected. When you work with RTA Products, you can see for yourself that our customer service stands out. Our website has MANY reviews left by our clients who have all had exceptional experiences. If something isn't the way you expected when your piece arrives, you can work with the furniture company that you ordered it from, as well as our team to make sure that it's either returned or repaired. You aren't left high and dry when something happens that you weren't expecting.
Read the Instructions
Finally, it can be important to read the assembly instructions even before buying your furniture. Is it going to be a bigger project than you were anticipating? Will it require tools that you need to go buy prior to it arriving? This is all better to know in advance. Thankfully, you can visit the RTA Products website to get copies of our assembly manuals and get a sneak peek.
Buying Furniture Online
It can seem like a risk to buy such a large piece online, but with the right precautionary measures, you can guarantee a successful transaction. Not to mention, you can visit our website to learn more about our online retailers, and we think you'll be impressed. Our furniture isn't only sold by small furniture businesses, it's also stocked at Target, Amazon, Office Max, Kohls, and more. If the furniture retailers that stock our pieces can tell you anything, it says that we supply quality. Visit our website to learn more about our retailers, as well as to check out our full line of products. We have some new releases for Spring 2020, and we can't wait for you to start using them in your home.
You can rely on RTA Products LLC to be a trusted partner who is committed to success in sales, marketing, production, distribution and customer service.
Leave a comment
Comments will be approved before showing up.